Centrepoint's financial advice community have the advantage of one very special service offering not seen in many non-institutionally owned licensees - the Centrepoint Alliance Technical Consulting team.
As a dedicated resource to our advice community, they provide specialist technical support to our advisers in the areas of superannuation, SMSF, retirement strategies, social security, aged care, and life insurance. Put simply, they enable our advisers to solve the problems of their clients.
With 107 years' industry experience between them, they received a score of 8.5 – well above industry average – in the recent CoreData Licensee survey.
We sat down with Peter Kelly - Superannuation and Retirement Planning Specialist, Mark Teale - Social Security and Aged Care Specialist, and David Spiteri – Life Insurance Specialist to see what issues kept our advisers up at night during the FY 16/17 financial year.
What were the big technical issues advisers sought support for in FY 16/17?
Peter Kelly (PK): In the past financial year, the technical consulting team has addressed over 3,000 adviser enquiries with the bulk of these related to superannuation, aged care fees and insurance.
Mark Teale (MT): Issues surrounding superannuation reforms, social security assets tests and outcomes of insurance applications were some of the main issues that advisers had to deal with in the past financial year. Most of enquires that the team received were surrounding these areas of concern.
If you had to choose one, what issue had the biggest impact on advisers in FY 16/17?
PK: The superannuation reforms had a huge impact on advisers and I spent a considerable amount of time delivering support through technical papers, webinars, Masterclasses and individual consultation.
A lot of the enquiries advisers had surrounding superannuation included:
The introduction of the maximum amount a person can hold in a superannuation pension account (the transfer balance cap)
The reduction of superannuation contribution caps
The removal of the tax exemption on investment earnings for 'transition to retirement' pensions
How do the clients of financial advisers benefit from the technical consulting support you provide?
David Spiteri (DS): In the past financial year alone, I have personally intervened in client insurance claims which has resulted in the payment of $21 million of life and TPD claims and more than $100,000 per month of income protection benefits. That's a staggering amount of money!
But even more important are the individuals we're helping. I recently wrote about the value of good risk advice and the absolutely life-changing result I was fortunate enough to be able to assist one of our advisers with. That's why I do what I do.
What issues do the clients of Centrepoint's advisers worry about?
MT: Aged care and retirement is a really hot topic with financial advice clients because we're an ageing society and it's so complex.
I held four aged care roundtable discussions throughout the year and there were a lot of questions coming through on aged care fees. Clients have concerns around the processes involved if they're unable to make payment or their personal circumstances have changed.
PK: Likewise with superannuation. Clients are looking for ways to maximise superannuation in preparation for retirement. They're actively seeking information on superannuation benefits, such as claiming early and how to contribute further.
DS: From the insurance side, clients are most concerned with premium increases. Claims also feature prominently - particularly in the areas of income protection and monthly benefit enquires.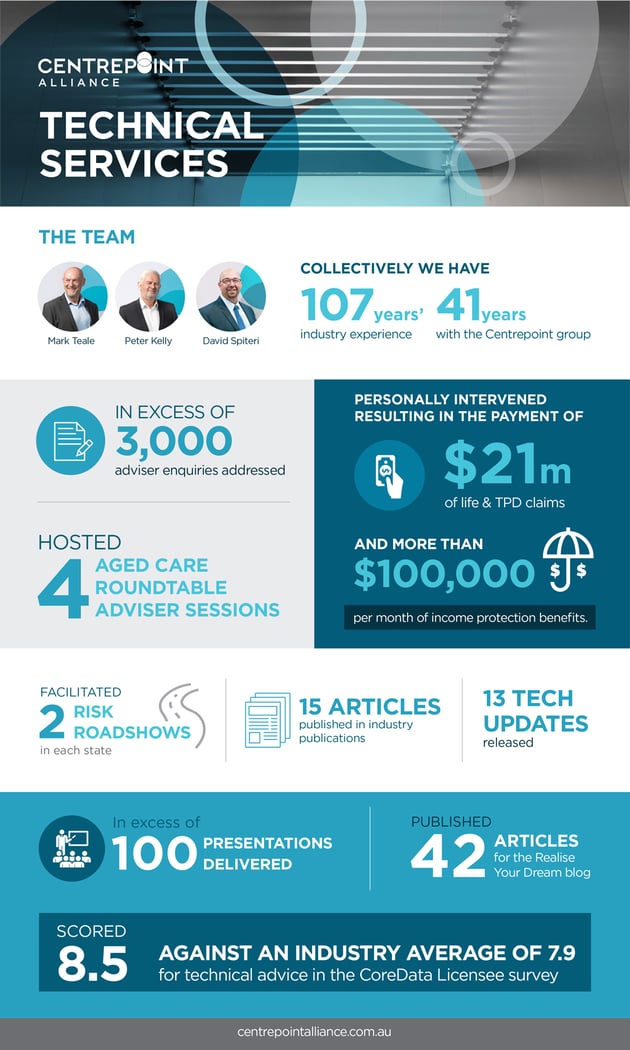 Looking for a dealer group who makes you look like a rock star to your clients? With the support of our technical consulting team, you'll never have a client query or problem too hard to deal with again. Click the button to submit the form and we'll be in touch.